MOTOROLA V180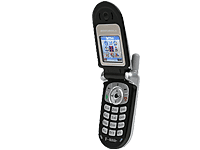 Too often in the world of cell phones, the need for a quality, basic handset gets lost in the shuffle of integrated cameras and other high-end features. The primary purpose of a phone is above all to make calls. If a mobile can't do that well, it's not worth much. Fortunately, there are devices like the Motorola V180. Wrapped in a compact package, this T-Mobile and AT&T Wireless handset offers solid call quality and basic yet functional features. While its design felt flimsy, its inclusion of a speakerphone and instant messaging was a welcome surprise. At $119, the V180's price is right, but you can find the phone for even less with a service agreement.
Editors' rating:
7.0 Good
The good:
Compact form factor; good call quality; speakerphone; USB capability; instant messaging; world phone; long battery life.
The bad:
Flimsy plastic construction; slippery keypad and cramped controls; small internal display.
What's it for:
Making calls and sending messages.
Who's it for:
People who don't expect too much from their mobile phone.
Essential extras:
High-performance battery; car charger; headset; leather case.
The bottom line:
Though we weren't impressed by its design, the Motorola V180 is a quality, basic cell phone.