Samsung YEPP YP-T7X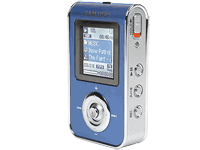 While Samsung is a well-known electronics giant, we wouldn't consider the company to be at the forefront of the portable audio scene--names such as Apple, Creative, and Rio dominate in this area. However, the Samsung YEPP YP-T7, a feature-rich flash player with a glorious, if small, 65,000-color screen, stands to change this perception. The YP-T7, which is available in 512MB ($149) and 1GB ($199) capacities, has nearly all the things we'd expect from a high-end device. Kudos aside, with its subpar battery life and lack of true playlist support, the YEPP is just shy of perfect. Still, a well-implemented design, great sound, copious audio options, and photo-display capability make it easy for us to recommend this player to style-conscious and feature-hungry music aficionados.
The good:
Lovely compact design; beautiful color screen; SRS and TruBass effects; FM, voice, and line-in recording; photo- and text-viewing functionality; supports DRM-protected WMA.
The bad:
Delicate build; so-so battery life; doesn't recognize playlists transferred from Windows Media Player; included earbuds suck; doesn't support ID3-tagged album art.
What's it for:
Listening to digital music; recording from the mic, the FM tuner, or a line-in audio source; viewing small photos and short text files.
Who's it for:
Feature-hungry music fans; gadget enthusiasts.
Essential extras:
Decent headphones; digital photos.
The bottom line:
We'd like to see a few improvements to the YP-T7, but it should be a top choice for those who want an MP3 player with tons of features.